Facilitating Operations
Spectrum Efficiency
Adopted Models:NXDN DMR P25
One of the most essential issues in radio communications is spectrum efficiency. Although the basic composition and usage of bandwidth are different among NXDN and DMR air interfaces, both offer excellent spectrum efficiency with real narrow-banding: the NXDN air interface can fit into the very narrow 6.25 kHz bandwidth using FDMA technology. DMR, on the other hand, employs two-slot TDMA to fit 2 talk paths within the existing 12.5 kHz bandwidth, realizing "6.25kHz equivalency" without requiring additional investment. KENWOOD thus offers a wide variety of CAIs and equipment so that users can comply with regulatory requirements while satisfying their own needs and enjoying system configuration convenience.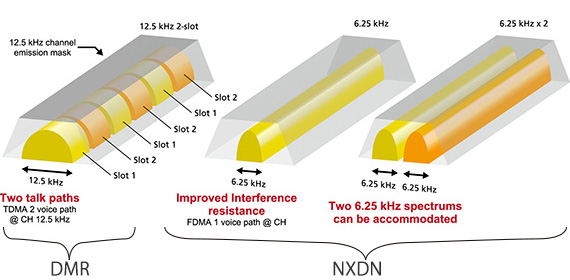 KENWOOD Sound Quality
Adopted Models:NXDN DMR P25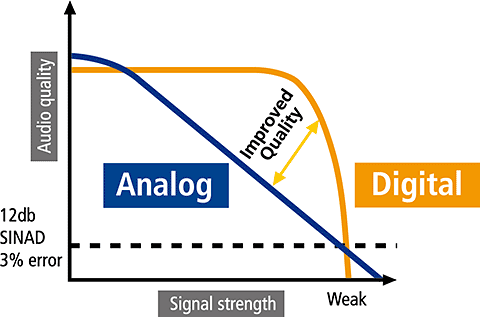 The KENWOOD brand represents many decades of experience in the production of high-end equipment for audiophiles, so our radios offer standout sound quality. Specifically, all KENWOOD professional radios benefit from our audio specialist expertise in sound analysis and noise reduction, which in turn enable optimization. As a result, you can be confident of clear exchanges even in challenging environments and conditions.
Conventional Mixed Mode
Adopted Models:NXDN DMR P25
KENWOOD radios extend the life of current radio system assets. Capable of both conventional analog and digital operation, KENWOOD radios can talk to both old and new radios. Current analog and NXDN, DMR and also P25 phase 1 digital fleets can share the same frequency in conventional Mixed Mode, providing uninterrupted service as long as needed and a straightforward migration path as aging analog fleets are replaced with digital.
Mixed Mode operation is available in base, repeat and direct modes in the following bandwidth combinations: 25, 20* or 12.5 kHz analog with 12.5 or 6.25 kHz NXDN (25 kHz mode capable equipment is only available where permitted by government regulation).
Additionally, all digital modes use the same power amplifiers and site management equipment used for current analog stations, ensuring high ROI and a wide range of supplier choices.

In Europe only
Call interruption
Adopted Models:DMR P25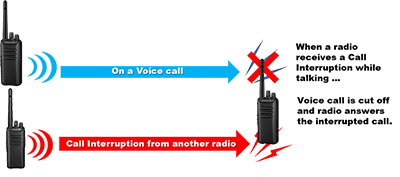 In an emergency or whenever a user needs to interrupt a call, Call Interruption featured on DMR CAI is available in both direct and repeater modes, while encoding or decoding.
Dual-slot Direct mode
Adopted Models:DMR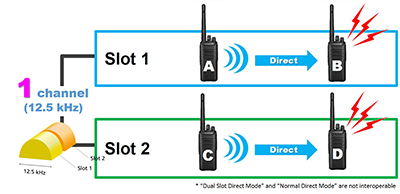 Up to two simultaneous subscriber calls can be supported in the DMR's 12.5 kHz channel without requiring a base station or repeater.
Trunked Channel Shared Mode
Adopted Models:NXDN
NXDN trunked system traffic channels can be shared with existing external analog conventional or analog trunked logic controllers, extending service to analog fleets as they transition to NXDN trunking.
Fleet Priority Channel ? Secured Priority Channel Allocation
Adopted Models:NXDN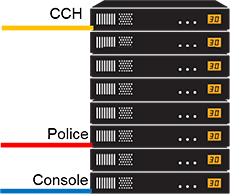 For demanding mission/operation-critical users, it is essential to have a system that offers top-notch security 24/7. And they can put their full trust in the NXDN Gen2 system, not least because one can assign a secured priority channel to a specific TCH ? for a group, console, or other peripheral. Members of such a group will have access at all times ? ideal for public safety applications. As well as enabling private system applications, this facilitates the development of new solutions ? for example, using a Secured Priority Channel for SMR network channel leasing to end users.
Call Pre-emption/Interruption for Consoles
Adopted Models:NXDN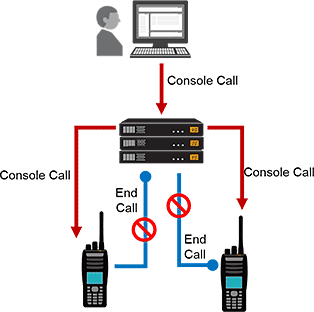 Supervisors and console operators ? for example, in airport control towers and taxi dispatch centers ? will certainly welcome this feature, which ensures that console calls have priority. If there is no traffic channel available, the console can take over a channel: radios in operation will automatically stop ongoing call transmission/reception, and the console will be able to communicate directly with their users. Call interruption enables emergency alerts or instructions to be issued, making this ideal for public safety/works applications.
AVL & Messaging
Adopted Models:NXDN DMR
KENWOOD offers dispatch application software such as KAS-20 that integrates with a number of different systems from a single standalone system to multi-client system with a server PC as well as via VPN connection.
Voice Dispatching
Adopted Models:NXDN DMR
KENWOOD's Digital Voice Dispatching System available via installation of KAS-20 AVL and Dispatch Software is a pure end-to-end, IP-based telecommunications console system designed for medium-to-large business or industrial applications using NXDN or DMR. Network redundancy and hot standby provide 99.999% availability.
IP Gateway Connection to Digital Trunked Repeater
Group, Individual, Emergency, Status, Encryption
Analog/ Digital Conventional Radio Gateway
Patching at Dispatch Console
System-Wide Aux I/O
Supports Distributed Console System Design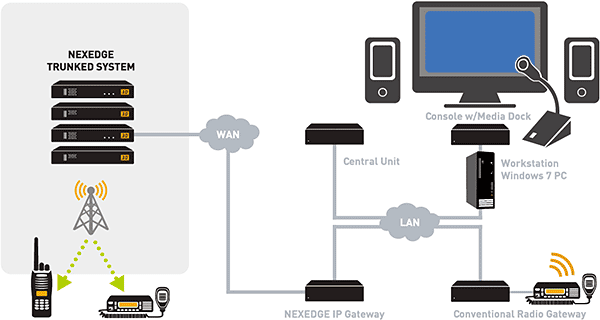 Multiple Configuration
Adopted Models:P25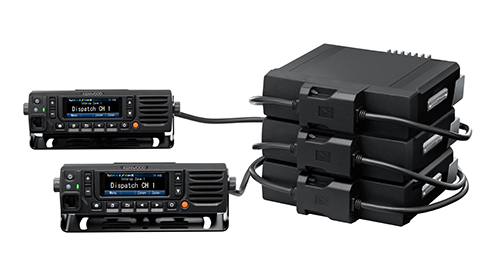 NX-5000 Series mobile radios under P25 protocol enable users to create various configurations to suit different requirements by combining options suitable for public safety applications.
Single Remote Control Head x Single RF Deck: Suited for distribution and courier services, this is the simplest configuration. The detachable front control panel on NX-5000 mobiles is used as a Remote Control Head.
Single Remote Control Head x Multi RF Decks: You can operate multiple radios (e.g. VHF and UHF) as if they were one by adding an NX-5000 Series RF Deck. This configuration is recommended for law enforcement agencies.
Dual Remote Control Heads x Single RF Deck: One controller can be mounted on the dashboard, with the other at the rear. Useful for EMS applications.
Dual Remote Control Heads x Multi RF Decks: This adds the convenience of a dual control head to the multi RF decks (3 max.) configuration. Two operators can control 2 radios (e.g. VHF and UHF) from separate control heads. Ideal for firefighting battalion chiefs.
Wireless Image System
Adopted Models:NXDN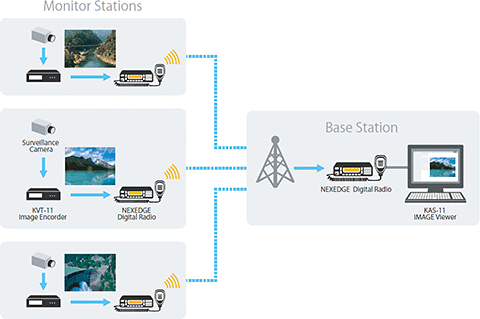 This innovative system consists of a monitor station (KVT-11) and a base station (KAS-11), linked via digital transceivers*. Still images (900KB VGA-resolution color or B&W) are transmitted from remote cameras to the base station computer, which serves as the control and monitoring center. Thanks to MPEG-4 AVC/H.264 compression, transfers take no more than 90 seconds. Several sites can be monitored simultaneously.
Models compatible with Transparent mode.
Telephone Interconnect System
Adopted Models:NXDN
Connected to a Digital trunked system, the KTI-4 Telephone Interconnect Adapter converts analog voice to/from digital, enabling two-way communication between a telephone and a radio. It connects to an analog PABX/PSTN system through analog telephone patch equipment.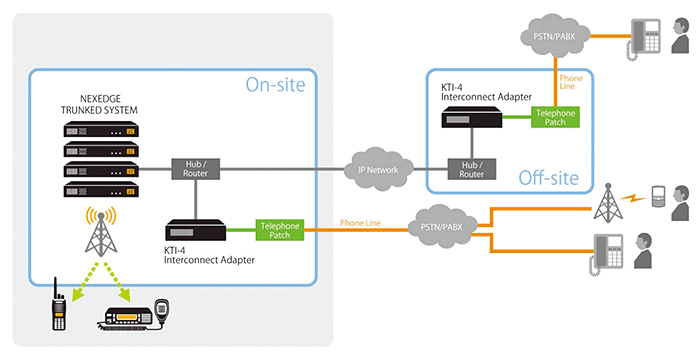 Superior Clarity with Extended Coverage
Adopted Models:NXDN DMR P25
As RF signal strength weakens with distance, analog reception becomes increasingly noisy and intermittent. The low BER of NXDN improves reception in fringe areas, thereby effectively increasing range by as much as 20% over FM analog, resulting in a 50% increase in coverage area for digital 6.25 kHz.
Furthermore, even compared to digital 12.5 kHz bandwidth operation such as DMR, the narrower 6.25 kHz bandwidth enabled by the FDMA technology of NXDN extends range by 15%. Receiver filters are narrower and can thus reduce noise. The net result is superior clarity over a 30% wider coverage area.
Sound quality comparison between digital and analog transceivers
Rugged Design
Adopted Models:NXDN DMR P25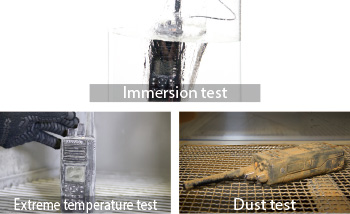 As part of the development process, KENWOOD radios have to prove they can survive the most grueling conditions. They are dropped, soaked, splashed and subjected to extremes of temperature. Also the keys are operated tens of thousands of times to ensure they can withstand heavy use over a period of several years.
Explosion Protection, Intrinsically Safe ? Worldwide Directives/Certifications for IS Radios
Adopted Models:NXDN
ATEX directives are EU standards covering equipment to be used where there is a potential risk from explosive atmospheres; certified products eliminate the risk of ignition and ensure safe operation. IECEx is an International certification system for Ex equipment. In China CQST is a safety certification scheme for electrical products to be used in hazardous areas. USTC certification assures conformity with relevant US and Canadian standards. CSA is Canadian Standards Association, while CSA US covers the US.
Note: Please read the IS Manual very carefully before using an IS radio. The radio/battery combination must be strictly observed. There must be no substitution of items, even if the substitute has been previously approved for use with other KENWOOD communications equipment. Do not use the radio with any battery or accessories or options in a hazardous atmosphere unless they are specifically certified for such use; otherwise, an explosion or fire could result. Charge batteries only in areas known to be non-hazardous (in fresh air).